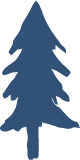 One of the best ways to explore 'America's Favorite Drive' is to stay right off of it, via Blue Ridge Parkway RV camping, for example. If the Parkway is what you're coming to Western North Carolina for, why not find accommodations that keep you right where you want to be? When you stay at Blue Bear Mountain, you won't have to waste alot time traveling back and forth. The only drive you'll be concerned with is the one that takes you on a journey of a lifetime.

If you own or have the opportunity to rent an RV, you have the potential for an unforgettable trip. Traveling in a camper will present more chances to immerse yourself in and enable you to feel closer to some of America's most beautiful natural settings. Don't be afraid to park along the designated areas, and explore the remarkable hiking and biking trails. Most importantly, don't forget your camera or binoculars - the picturesque panoramas are worth capturing. When you've had your fill for the day, head back to Blue Bear Mountain for a peaceful night's sleep, under the stars that have never seemed so close or bright.

There is no doubt you'll find hospitality at its finest along the Blue Ridge Parkway. Above all, we strive to provide our guests with a comfortable and pleasant stay. In order to ensure this, and also as away to protect and preserve the land, we limit the amount of campsites. Rest easy knowing that you won't feel overcrowded, overlooked, or inconvenienced.

If your next trip to the High Country involves the Blue Ridge Parkway NC and Blue Bear Mountain as your Boone NC camping facility, you are in for a treat. Don't hesitate to plan this ideal vacation, most only dream about!



Area Information


Located in the heart of the Blue Ridge Mountains on 160 acres of pristine mountain land, just north of Boone, NC. This is a great destination for a variety of activities. Here at Blue Bear Mountain we have miles of hiking trails to help you enjoy the beauty of these mountains. Our large, open field is a great space for all kinds of games. Make you way to the trout pond and catch your dinner or just take in the serene setting.

If you want to venture out and explore the area you will have plenty of options. You can float down a lazy river, hike to some beautiful vistas and waterfalls, enjoy a bicycle adventure for any skill level or explore the area on horseback. Just a few miles from the New River, all kinds of water sports are minutes away. Fishing, canoe, kayak and tubing adventures await. Whitewater rafting and fly fishing excursions are also nearby. Fly through the trees on a zip line or climb to the top of Elk Knob State Park, just minutes away. You might try your skill at one of our local golf courses. Just a short drive to the Blue Ridge Parkway or Grandfather Mountain Park where you will find some of the most incredible views the region has to offer.

Winter visitors can take advantage of the many ski resorts in the area for skiing, snowboarding, ice skating and snow tubing. If you prefer indoor activities there are many local shops, galleries and antique stores to browse. Whatever your interests, live your mountain adventure! Take advantage of our friendly staff who can point you in the right direction.



Location & Surroundings


Located in the heart of The Blue Ridge Mountains, ten miles north of Boone, NC. Within a two hour drive from Charlotte, Greensboro, and Ashville, NC and the Tri-Cities region of Tennessee. Near to the Blue Ridge Parkway, Grandfather Mountain, The New River, Blowing Rock and Tweetsie Railroad. At 4,000 feet elevation, the area boasts mild temperatures and cool mountain breezes.